Etulan Ikpoki's Testimonial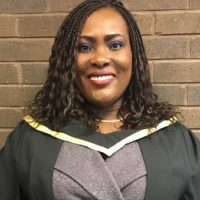 Etulan Ikpoki
Master Of Business Administration (MBA)
At some point, I knew I had to take an MBA, but I was so worried about finding the right school and program that would fit my already tight schedule. I was looking for a flexible program!
I had lots of friends and colleagues who had done some MBA program or the other, some never finished, some eventually finished with horrible testimonies on how stressful their program was, how they didn't have time and how they had to re-sit courses just because they couldn't keep up with the demands of work, family and school.
I wanted the full experience where I get to study for an MBA and see the direct effect on my personal development and my career. I did not want to do an MBA for doing sake!
Fast forward to 2013, I had already started planning to travel abroad for my masters program when God sent a friend to me! She told me about the EBS program and at first, I thought it was too good to be true. I couldn't believe that ………….
I had the flexibility of paying for my courses on a pay as you go basis….so the financial burden of paying for everything or a lump sum part payment at once was eliminated…hmmm interesting.
I had the flexibility of taking the courses when and where I wanted to…so if I'm not ready for a course I could always move the date…..hmmmm nice…. That means I have the flexibility of planning how long my EBS journey would be!
I had a wealth of material to help me fully grasp the course work and also prepare for my exams! The highly informative "black books" are a huge part of my library today! Past questions and answers were there for me to revise. There was so much helpful material on the student website that one does not have any excuse to fail. EBS gives you all you need to succeed if you are ready to engage your brain.
There was a local Approved Learning Partner (ALP) to help me FULLY understand the courses and prepare me for the exam. I must say the learning partner- Executive Development Centre was very instrumental in my EBS journey. The syndicate sessions led by talented professionals presented excellent learning and networking opportunities and an avenue to clarify many complex modules and concepts that one could not fully grasp when studying alone.
With all this information, I quickly registered for my first course and I was very strategic in my plan as to when I would finish my MBA….. 2 years!!!
I planned my courses with the exam timetable and I followed through with my plan.
I am indeed very thankful for EBS. They have what other MBA programs do not have- unparalleled flexibility!!!
Today I have my MBA from a world-renowned institution. Needless to say I am now an EBS evangelist. I mean, why benefit alone? All you need is determination and planning and your MBA (or MSc) will be a reality in no time right from anywhere you are in the world!!!